Submitted by sgd on Tue, 10/04/2016 - 7:22am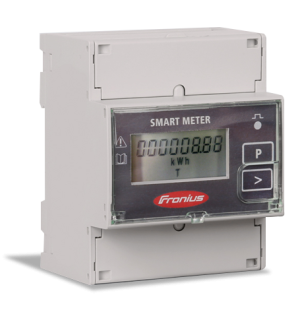 Ever wanted to track your power usage in real time? Thanks to the Fronius Smart Meter, you can. Breaking down how much power you produce, use and export back to the grid, it's the smart way to monitor your energy.
How does it work?
For such a sophisticated piece of technology, it's actually pretty simple.
Your Fronius inverter records and collects information on how much energy you produce, use and send back to the grid.
That information is sent to Fronius' online monitoring platform, Solar.web.
You can then access that information via your desktop or smart phone, building an energy profile you can use to track, monitor and manage your energy use over time.
Even better, getting started is easy: all you need is a strong Wi-Fi signal where your inverter is positioned (or an Ethernet connection to your inverter), and some excess space in your switchboard.
Co-ordinated and cohesive energy management
Providing you with a clear overview of your household's energy use, the Fronius Smart Meter and Solar.web portal also allow you to:
View your energy consumption in real time
Calculate the exact amount you're saving by using solar power
Identify and optimise your energy use, lower your electricity costs, and build an energy profile via desktop or Android, iOS and Windows phone
Solar.web is Fronius' free online portal
It allows you to monitor the production of your solar power system from anywhere in the world. The Fronius inverters are conveniently shipped with Wi-Fi built in, enabling you to access this service very easily. All you need is a strong Wi-Fi network at home, with access to the Internet, and the inverter can utilise it to upload the production data. Once this is configured, you can view your system production on any web-enabled device.
Connect anywhere, anytime
The Solar.web App is available for Android and iOS-powered smartphones and comes in two different versions: the Solar.web Live App, which is free to download from the App Store and Google Play, and the Solar.web Pro App which you can get for approximately $5. This comprehensive version enables you to turn on a device and see how much your power consumption changes in real time.
Take monitoring to the next level
With the Fronius Smart Meter installed, you'll get the consumption data added to your Solar.web portal. This means you'll get a full breakdown of the amount of power you produce, how much of it you consume, and what percentage is going back to the grid and into your house.
The best way to be battery ready
The Fronius Smart Meter is a breakthrough device for energy monitoring: not only does it enable you to get an exact dollar-saving figure from the Solar.web portal, but it also gives you the consumption information you need if you want to add batteries down the track, as you'll know what size of battery you'll need when the time is right.
What kind of inverter do I need?
The Fronius Smart Meter is compatible with all inverters with an RS485 interface. It's ideally paired with the Fronius Symo, Fronius Symo Hybrid and Fronius Galvo inverters, and can be easily retrofitted with previously installed Fronius Datamanager 2.0 inverters.
Smart Meters are available in Three-Phase and Single-Phase designs. The type of Smart Meter you need depends on whether you're on a single- or three-phase connection.
Support and assistance whenever you need it
Fronius has an Australian subsidiary located in Melbourne, so you can rest assured support is available whenever you need it. Add on a 10-year warranty, and your long-term service and technical support is assured.