Founded in the United States in 2006, Enphase introduced the world's first micro inverter system in 2008. Committed to making solar more efficient, affordable and reliable, they now boast more than 460,000 installations worldwide. First appearing on the Australian solar market in 2013, they're now producing their 5th generation of micro inverters and are an emerging leader in the global solar scene.
Enphase micro inverters
Unlike conventional solar PV systems, their micro inverters pair a micro inverter with each solar panel. This not only allows for quicker, easier and cheaper installation, but delivers greater design flexibility and higher power yields. Out of sight wiring ensures a minimal impact on your home, while a low voltage design ensures your family's safety.
Modern storage solutions – Enphase AC batteries
Seamlessly paired with the micro inverter, Enphase AC batteries offer the industry's lowest cost of entry and best lifetime value. Clean, modern and unobtrusive in design, they meld into your garage or covered areas, providing a simple, modular building block for use in a larger distributed energy management system. With low up-front costs, they're an affordable storage solution, with flexible configurations designed to match your household's needs.
Enphase Australia
Bursting onto the Australian solar market in 2013, Enphase has become the region's dominant micro inverter technology. Reaching an estimated 8% market share in 2015, their continuing growth has made them a force in the Australian solar industry. Australian consumers can access local technical and sales support through an Australian website, dedicated 1800 number, as well as offices in Sydney and Melbourne.
Enphase micro inverters are:
Warranty supported for 10 years

Rigorously tested for performance in harsh Australian conditions

World leaders in efficiency with 95.4% EU efficiency and 99.3% dynamic MPPT efficiency ratings
Products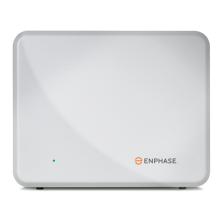 Retrofit, expand, monitor – it's all possible
Enphase has developed a revolutionary unit, the Envoy-S Metered, which is the heart of their home energy solution. You can install this unit into your home and see your consumption, production and available storage. Have an existing solar power system? No problems, it will show you the production of that too. Want to add some more panels to your system? Go ahead, add them one at a time with Enphase micro inverters – no need to match new panels with your old ones. You'll get complete insight into your energy usage at home, so when your ready, you can make an informed decision on how many Enphase batteries you need. There's nothing like it.