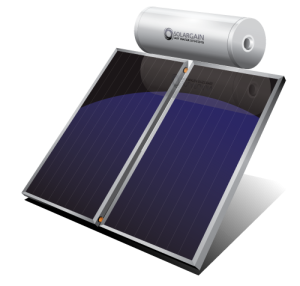 Using a roof mounted tank and two highly advanced, all copper flat plate thermal collectors, this popular solar hot water system will provide up to 80% of your hot water needs.
Employing the latest in natural thermosiphon technology, this proven system requires no moving parts or pumps, making it a low maintenance and reliable operator.
Solargain's Double Panel roof mount attract some of the best government incentives available. Solargain can replace your existing roof mount system easily. Our double panel roof mount is compatible with most existing brands in the market & ensures a quick and easy changeover.
Roof mounted solar hot water systems come with an automatic electric backup in place to help out on especially overcast days, this clever roof mounted solar hot water system saves money and cuts pollution. The Solargain Hot Water double panel electric boost system is ideal for Australian families.
Product Features:
Attracts generous government incentives
Designed to withstand harsh Australian conditions
All copper collectors with black chrome selective coating
4m² collector surface area
Easy changeover from existing roof mount electric boost system
Nation-wide sales and service networks
Family sized solar hot water system
Product Warranty:
5 year parts and labour on tank and collectors
1 year parts and labour all other components
Temperature Pressure Relief Valve:
Sacrificial Anode Installed:
Product Includes:
2 x High Performance Selective Coated Collectors
1 x 300 Litre Vitreous Enamel Tank
Fully Certified Installation