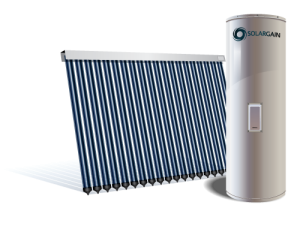 Using cutting edge solar thermal technology, Solargain evacuated tube hot water systems offer maximum solar contribution regardless of your weather zone. The shape of the tubes is designed to absorb the sun's heat and extend the solar hot water availability time.
Solargain's evacuated tubes are made of 2mm-thick glass which has undergone hail testing to ensure it could resist the impact of a 25mm stone at a speed of 85km/h. Besides, they can withstand temperatures as low as -15°C thanks to their level 2 frost protection, eliminating the need for glycol.
Thanks to their high efficiency, Solargain evacuated tubes can be installed on any aspect of your roof. All our evacuated tube solar hot water systems are eligible for Small-Scale Technology Certificates (STCs), government incentives meant to back Australian home owners wishing to go solar.
Product Features:
Collectors and storage tanks manufactured to ISO 9001
International quality standards
Nation-wide sales and service networks
Lightweight and versatile mounting options
Better performance in overcast conditions
Product Warranty:
5 years parts and labour on tank and collector
2 years parts on solar pump
1 year parts and labour on all other components
Temperature Pressure Relief Valve:
Sacrificial Anode Installed: