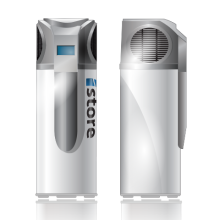 The iStore is one of the most efficient and affordable storage solutions on the market. It consists of a thermal energy storage unit that stores the excess energy produced by your solar panels and transforms it into hot water for you to use when you need it.
Maximise your savings
The iStore can be set to run during the day, which is when the solar power is doing its best work. This means that, rather than sending your excess power back to the grid, you can use that extra energy as hot water.