About Latronics inverters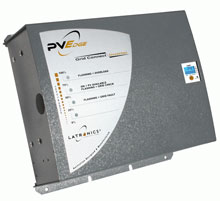 Latronics inverters are Australian-made products manufactured in Queensland. While their capabilities are relatively basic, they still deliver highly effective and reliable results.
Latronics inverters have been installed across Australia since as early as 2009. They originally came in the following models, known as 'PVEdge':
While most Latronics inverters came with a three-year warranty, some that were purchased during a promotional offer in 2010 came with a five-year warranty.
Monitoring your Latronics inverter's performance
Latronics inverters have a grey cover and four lights running down the left-hand side. On the right-hand side is a DC circuit breaker and a small screen. This screen displays an accumulative total of your production in kWh. You can use it to measure your inverter's performance.
Common faults with Latronics inverters
No lights: Lights failing on your Latronics inverter can be the result of a faulty internal DC breaker or blown fuses.
Flashing 50% light (with 25% light off): This fault indicates you may need to check the solar supply main switch in your meter box.
Flashing 75% light (with 50% light off): This error means you need to check the solar supply switch in your main switch board and the isolating switches on your inverter.
Under producing: If your Latronics inverter is failing to produce the number of kWh you'd expect for this time of year (for example only 25% during the peak of summer), it could be a sign that fuses on your roof may have blown.
For more information about Latronics inverter faults, visit this page.
How do I arrange to have my inverter repaired under warranty?
If your Latronics inverter is experiencing issues and is still covered by warranty, we can organise a replacement unit. However, Latronics warranty claims only include a retrofit inverter, which means it does not cover any of the labour costs associated with removing the old unit and replacing it with a new unit.
If you don't feel comfortable removing your inverter for return to the manufacturer, contact us to arrange a solar health check and we can do it for you.
What help is available if my Latronics inverter is out of warranty?
If your faulty Latronics inverter is out of warranty, we suggest you book in for an inverter health check. We will attempt to repair your unit and will replace any blown fuses at no extra charge. If your inverter needs a new DC circuit breaker it will cost $90.
If we are unable to repair your inverter, you may like to consider purchasing a refurbished Latronics inverter which comes with a 12-month warranty. The 1.2kW model is available for $750 and the 2.5kW model is available for $875.
Alternatively, new Latronics inverters that come with a three-year warranty are available at $1500 for the 1.2kW model and $1700 for the 2.5kW model.
If you decide to upgrade to a different brand entirely, there are a few points to consider:
Changing the capacity of your inverter could affect your feed-in tariff.
The solar panels in Latronics systems are wired in parallel. Therefore you will incur additional labour fees if they need to be re-wired to be in series.
Book your inverter health check now
Don't put up with a faulty inverter for any longer. Book your Latronics inverter in for a health check with one of our experienced technicians today by calling 1300 73 93 55 or via our website.