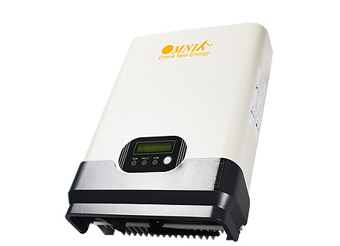 We service and repair Omnik inverters!
Do you need to have your Omnik inverter repaired or serviced? Solargain to receive guidance or to book a site visit, and we'll help you get your solar power system up and running again as quickly as possible.
Omnik models we service
A Sino-German company, Omnik combines German engineering and Chinese production. Their comprehensive product range caters for all power needs, with single- and three-phase inverters, micro-inverters and hybrid inverters. Solargain services and repairs the following Omnik models:
Omiksol TL-M
Omniksol TL2
Omniksol 3P-TL2
Omniksol micro-inverters
Is your inverter not on that list? Get in touch to see what we can do to help.
Known issues with Omnik inverters
Some issues aren't the result of an inverter failure, but are rather due to external factors.
For instance:
Isolation Fault
Utility Loss
Vac Failure
When you come across one of these, you should:
Make sure that your solar supply main switch (generally found in your main board or sub-board) is on.
Contact Solargain to get an accredited electrician to visit your property and examine your inverter in order to exclude external causes.
Omnik inverter repair process
With over 10 years' industry experience, Solargain has a deep understanding of Omnik inverters. Moreover, our ISO 9001 certification and our team of CEC-accredited electricians have allowed us to create and implement efficient processes in line with international quality and safety standards.
Our Omnik inverter service procedure is pretty straightforward:
We come to you and inspect your inverter.
If your unit is repairable, we source replacement parts and fix it.
If it's not fixable, or if it is more cost-effective, we recommend a new model.
We thrive to provide excellent, quick and affordable inverter repairs and servicing.
Claiming warranty on Omnik inverters
Omnik inverters come with a five-year standard warranty, which is extendable to 25 years. Omnik still accepts warranty claims, but the process is usually long, especially when it comes to ordering replacement parts.
If you would like Solargain to assist you with your warranty claim, you'll need to provide the following elements:
Your inverter's serial number
The error message displayed on your screen
The date your system was installed
A proof of purchase
Pictures of the inverter if requested
If your inverter is no longer covered by warranty, you advise you to book a health check ($198) so one of our trained technicians can inspect it and attempt to fix it. If it is repairable, it will be fixed on the day and, if it isn't, we'll offer a replacement option to get you up and running in one visit.
About Solargain
Solargain is an Australian solar energy company selling, installing and repairing solar power systems across Australia. Our solid national network allows us to offer quality service at affordable prices to Aussie customers countrywide.
Contact us
Contact Solargain on 1300 73 93 55 to discuss your Omnik inverter repair needs with our service team or fill out the form below.