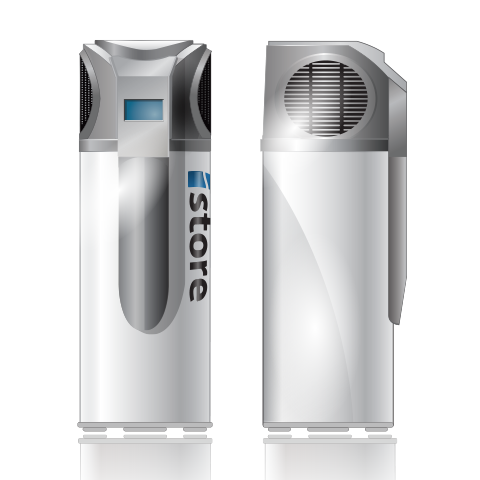 The iStore is one of the most efficient and affordable storage solutions on the market. It consists of a thermal energy storage unit that stores the excess energy produced by your solar panels and transforms it into hot water for you to use when you need it.
Maximise your savings
The iStore can be set to run during the day, which is when the solar power is doing its best work. This means that, rather than sending your excess power back to the grid, you can use that extra energy as hot water.
Running your iStore during the day is beneficial because the higher the ambient temperature is, the more efficient the iStore will be, which means lower annual costs & minimum carbon footprint. Running your iStore jointly with your solar PV system makes it one of the cheapest forms of energy storage.
Setting up the iStore's user-friendly timer to run throughout the peak hours of solar PV generation, provides amazing storage benefits:

Store your excess solar power into the iStore for use later on in the evening. Maximum return on investment for both your solar PV and iStore purchases. The potential for free hot water all year round is quite possible if the solar PV system is large enough. The iStore only requires 4 x 270W panels to run, so an average 5kW system (i.e. 20 panels) leaves you 16 panels to generate electricity for the rest of your home, which is plenty.
Storing your excess PV energy is effectively like having a premium feed-in tariff. Rather than purchasing peak-hour electricity from your retailer ($0.25 to $0.40), you can store the extra energy your system has produced into the iStore for later use.
The iStore could be compared to a 6kW traditional battery system. When properly set up, it allows you to store enough energy to provide hot water for your entire household.

Key Benefits

Heating water for the home accounts for up to 25% of the total energy usage for the average Australian household. iStore is a cost-effective, reliable thermal storage solution which reduces water heating consumption by 2/3 and CO₂ emissions by 4 tonnes. Installing an iStore could save you up to $950 per year on your energy bills.

Make the most of your solar power system

Enjoy free hot water all year round

Reduce your electricity bills

Lower your carbon emissions

Increase your home's energy efficiency rating

Increase the value of your property

Access Federal Government rebates