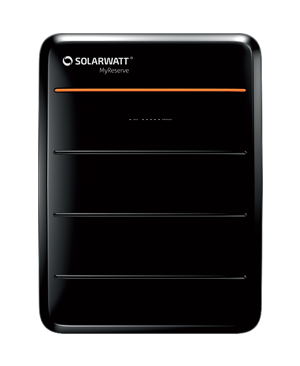 Adding a SOLARWATT MyReserve 500 battery to your solar power system will reduce your energy bills even further and help you become energy independent.
SOLARWATT MyReserve 500 features
German made
Designed, developed and manufactured in Germany, the SOLARWATT MyReserve 500 is a high quality li-ion battery which ideally combines smart design and high efficiency.
User friendly
A user-friendly battery, its small size and light weight (< 25 kg) mean it can be easily installed in any single- or three-phase home.
Safe & Secure
In addition to keeping you safe thanks to its 14 mm aluminium case, SOLARWATT's MyReserve 500 also ensures the security of your data with no direct network connection to the outside world.
Highly responsive
Thanks to its 0.7 sec response time, the MyReserve 500 ensures that the unused energy generated by your PV system is quickly stored and not lost to the power grid.
Great value
The SOLARWATT MyReserve 500 is one of the most affordable quality batteries currently on the market. We recommend it for households with up to 7 kW of solar panels.
SOLARWATT MyReserve 500 benefits
An award-winning energy storage solution

The MyReserve 500 won the German Design Award 2016 as well as the Intersolar Europe 2015 EES Award.

Top quality and efficiency

The MyReserve 500 by SOLARWATT is compliant with international safety standards for lithium-ion home batteries and was tested by TÜV and CETECOM, Germany's most reputable quality certification organisations.

A 10-year output warranty

The SOLARWATT warranty guarantees 80% of the rated capacity after 10 years or 4,100 full cycles.

Product Dimensions:
984 mm H x 734 mm W x 310 mm D
Output:
2 kW peak / 1.5 kW continuous
Use. Capacity:
4.4 kWh, expandable up to 8.8 kWh as cluster